7:08 AM |
Posted by M Tanthowi Jauhari
|
Edit Post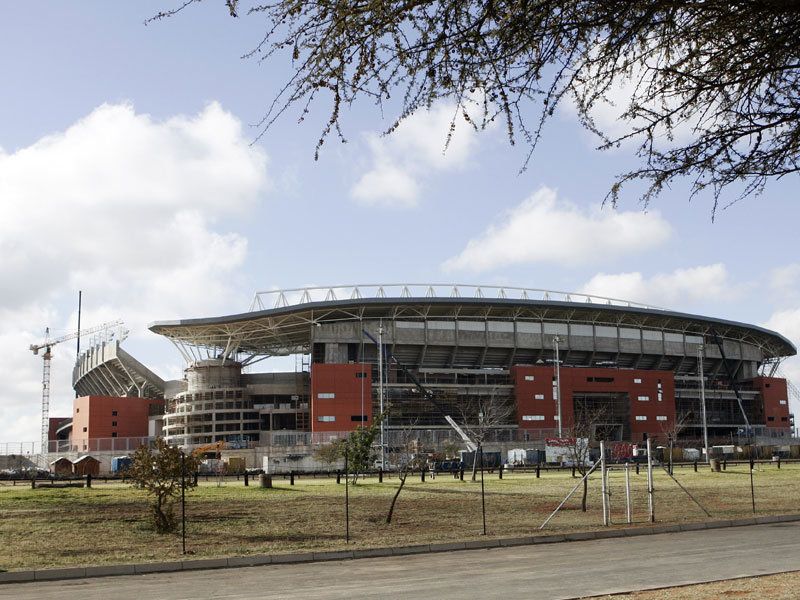 Name: Peter Mokaba Stadium
Year completed: 2010
Cost: US$154,000,000
Capacity: 46,000
Home to: None designated
Trivia: The design is inspired by the iconic Baobab tree. The stadium will house 5,000 VIPs
The Peter Mokaba Stadium, named after a late local anti-apartheid campaigner and government minister, is an attractive 46,000-seater arena built in Polokwane especially for the World Cup. Adjacent to the old Mokoba arena - which held only 18,000 fans - the ground is 5km south of the city centre along Dorp Street. Shuttle buses will offer services between the stadium and downtown.
Where to go, what to see
The most northern of South Africa's World Cup venues, Polokwane's municipal motto of "naturally progressive" could not be more apt.
The site for four group games, the capital city of the Limpopo province certainly has not skimped in its preparations for the main event, investing heavily not only in the construction of a brand-new stadium but also in roads, water supply, sanitation, parking facilities, bus and taxi services and other infrastructure. If ever there was an African city looking to the future, this is it.
Situated on the Great North road to Zimbabwe, Polokwane literally means 'place of safety' and this municipality of 500,000 inhabitants certainly lives up to its name, recently given the title of the safest place in the whole country.
An ethnically-diverse city, six languages are spoken in Polokwane, with English, Afrikaans, Northern Sotho, TshiTsonga, Tshivenda and isiNdebele all in play, and the Polokwanians are known for being warm, hospitable people. In addition, they have no little civic pride, which was a key factor in their drive and determination to put on the best possible World Cup show in their back yard.
To complement the warm welcome, there should be plenty of sunshine, too. Located some 1,280 metres above sea level, Polokwane, or Pietersburg as it used to be known, tends to be dry and bright in June. Temperatures can reach 25 degrees Celsius by day, only to plummet at night.
A pleasant albeit rather understated city of wide streets, Jacaranda trees, colourful parks and sparkling fountains, Polokwane has a compact, neatly set-out centre, one that lends itself to foot patrols. Although strides have been made in the field of public transport, independent-minded visitors who want to get out and about are still best-served by hiring a car.
Served by domestic flights (SA Airlink) and international connections from neighbouring countries, Polokwane Airport, on the N1, 5km north of the city, now boasts a new terminal building and has upgraded all its amenities. All the leading car hire firms have desks there.
Translux buses from Jo'burg and Pretoria stop at Thabo Mbeki Street, right by the central Civic Square, the site of a most helpful tourist office. There are many excellent B&Bs in the city, particularly in the eastern suburbs.
One thing you can be assured of here is eating well. The Limpopo province is South Africa's richest agriculturally, specialising in fantastic fruit, vegetables, cereals and tea. Compared to what you might buy in supermarket back home, the mangoes, papayas, lychees, avocados and bananas are a class apart.
At the Farmyard Trading Post Restaurant, a country-style oasis, 5km to the east of town on Munnik Road, you are setting foot in foodie heaven. They make their own mouth-watering cheese, breads and pastries on site and serve up great meals to boot, such as the smoked chicken and mango salad and the oxtail with mash and roasted root vegetables. Its wine cellar is extraordinarily good, too.
As for steaks - which in South Africa are invariably of the mammoth variety - there's no better outpost than the Cattle Baron in the Thornhill Shopping Centre. Another popular spot for good dining is The Deck, a Mediterranean-type bistro on the corner of Pierre and Neethling streets in the suburb of Bendor. The cherry on the cake here is the great cocktails.
For a day out to remember, with sublime views of the Letaba Valley and food to match, head out to the Coach House Hotel on Old Coach Road in Tzaneen. Take the R71 east to feast on chicken and mushroom pie or a ploughman's platter to put the UK pub equivalent to shame. On Sundays, they do an outstanding buffet lunch, with roast beef and Yorkshire pudding top of the menu.
In the city's main shopping mall - the Savannah, on the eastern fringes of the city along the Tzaneen road - takeaways and chain restaurants abound and the Ocean Basket seafood chain is always a safe bet. Cafe society, too, is provided for at the mall in the shape of the Brazilian Cafe and Cafe Rossini, while the Cock 'n' Bull, a busy sports bar in the Savannah, which dishes up tasty pizzas and burgers, should also come into its own in World Cup month.
This region is a real sports breeding ground as it is the home to former South Africa football coach Trott Moloto, rugby lock Victor Matfield and golf champion Retief Goosen, and they now have a World Cup venue to complement that proud history.
From the top tier of the arena, you should be able to catch a glimpse of the giraffes, zebras and rhinos in the nearby game reserve, one of city's biggest draws. Covering 3,250 hectares, it's one of the largest municipal reserves in South Africa, providing a habitat for such animal kingdom favourites as the rare white rhino and sable antelope.
The reserve has a well-crafted network of roads, good spots to picnic and offers mountain biking, horse and hiking trails. Open 7am to 5.30pm, admission costs R14 for adults, R10 for kids and R22 per vehicle. Eden Routes (Tel: O15 263 6474) run superb half-day tours there in open-top vehicles and at R200 ($27.70), with a meal thrown in, they represent excellent value.
Those without those precious World Cup tickets should make for the video wall at the FIFA Fan Park at the Polokwane Cricket Club, which lies north-west of the Peter Mokaba arena.
Fancy a day away from the World Cup drama? South-east of town on the R37 is the fascinating Bakone Malapa Museum, a recreated village of the Northern Sotho people who lived here 300 years ago, while anyone wanting a game of chance should make for the Meropa Casino on the outskirts of the city. Besides the mandatory blackjack, roulette and slot machines, the complex also hosts a bird and snake sanctuary, go-kart racing and mini-golf.
Polokwane is a South African secret waiting to be discovered in the World Cup summer of 2010.
Labels:
Stadium
|
0 comments
Labels

Friend Links

Related Links